Vortex Sparc Solar Red Dot
Vortex SPARC SOLAR is the first Red Dot Sight in the Vortex range to use AUTO D-TEC solar technology, which provides up to 150,000 hours of operation!
Vortex Sparc Solar is designed to be used on AR15 carbines, semi-automatic shotguns, PCC carbines.
Changes compared to the classic version Sparc AR:
Smaller and lighter housing – only 167 g
Powered by AUTO D-TEC solar technology
Working time up to 150,000 hours
Powered by CR2032 battery (instead of AAA)
Motion sensor activating the viewfinder after automatic switch-off (after 14 hours)
Greater range of adjustment – 100 MOA elevation and windage
The body of the sight is made of aviation aluminum with the method of precise milling.
Reticle
DAYLIGHT BRIGHT RED DOT
The daylight bright 2 MOA dot is fast and easy to use. Choose among ten variable illumination settings – the lowest two settings are night-vision compatible.
Vortex Sparc Solar guarantees "stable POI hold", the optics is devoid of parallax error, and thanks to the unlimited eye relief, it can be used on hunting weapons, AR rifles and semi-automatic shotguns.
A 2 MOA-sized dot does not obscure the target, so it is perfect for both precise and dynamic shooting. The dot also has a wide range of brightness, i.e. 10 day settings and 2 night settings – compatible with night vision.
Vortex Sparc SolAR is operated by 2 flat buttons responsible for switching on / off and changing the brightness level, and open turrets for adjusting the position of the dot.
AUTO D-TEC solar technology
Vortex Sparc Solar has two power sources: a monocrystalline solar cell (main power supply) and a single-use CR2032 battery.
Thanks to Auto D-TEC technology, when there is not enough sunlight, the power automatically switches and draws power from the CR2032 battery.
In most daytime (outdoor) conditions, the Sparc Solar will run on solar power only. The combination of two power sources provides up to 150,000 hours of battery life with a brightness setting of 6.
CAN THE MOTION ACTIVATION FEATURE BE TURNED OFF?
Yes. Holding the "-" illumination button for five seconds will turn the unit off, disabling the motion activation.
The impressive operating time of the sight is also due to the use of a motion sensor which, in the event of inactivity, turns off the power supply of the collimator (after 14 hours) and puts the device into sleep mode.
Reactivating the reticle only requires moving the weapon. In case of manual exclusion of aiming, the motion sensor does not activate the device.
Vortex Sparc Solar has one of the best battery life ratings among solar red dots. With one of the larger objective lenses for red dots in this
class, you'll also enjoy an incredibly clear sight picture.
And last but not least A captive flip cover system secures to the battery cover—no more searching for caps when it's time to cover those lenses.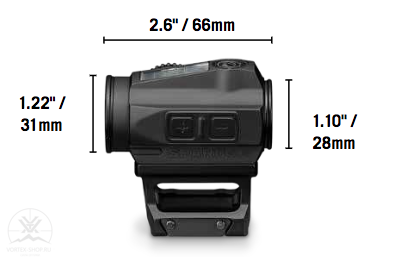 Characteristics:
Daylight Bright Illuminated Center Dot

 

Daylight bright, illuminated center dot aids in faster center-point acquisition in bright daylight conditions.

Fully Multi-Coated

 

Increase light transmission with multiple anti-reflective coatings on all air-to-glass surfaces.

Unlimited Eye Relief

 

Non-critical eye relief for rapid target acquisition

Night-Vision Compatibility

 

The lowest 2 settings are night-vision compatible.

Parallax Free

 

All red dot and holographic sights will exhibit some small amount of parallax. Matching current industry practice, this small amount would be considered "parallax free" and will make a negligible difference in performance.

Waterproof, Fogproof, Shockproof

Low-Glare Matte Black Anodized

 

Corrosion and wear resistant anodization provides low-glare matte surface and helps camouflage the shooter's position.

Solar Powered, With Auto D-TEC Technology 

Automatically switches from solar to battery power.

Motion Activation Capable

 

Automatically activates with motion after auto shut-off
Included in the Box:
Tethered Lens Covers
T10 Torx Multi-Tool
Low Mount
Lower 1/3 Co-Witness Mount
Lens Cloth
CR2032 Battery